BY JESSICA LEBERMAN, DPT
The COVID-19 pandemic has introduced the world to the importance of prevention.  Mask wearing,
social distancing and quarantining have become household norms.  Despite efforts, in the United States nearly 30 million people have contracted the virus with approximately 525,000 deaths. That means there are countless people living in the United States who have survived COVID-19 and are now left with a vast array of long-term side effects from the virus.
The CDC provides us with information regarding common long term side effects from COVID-19 including;
Fatigue
Shortness of Breath
Joint Pain and Muscle Aches
Headaches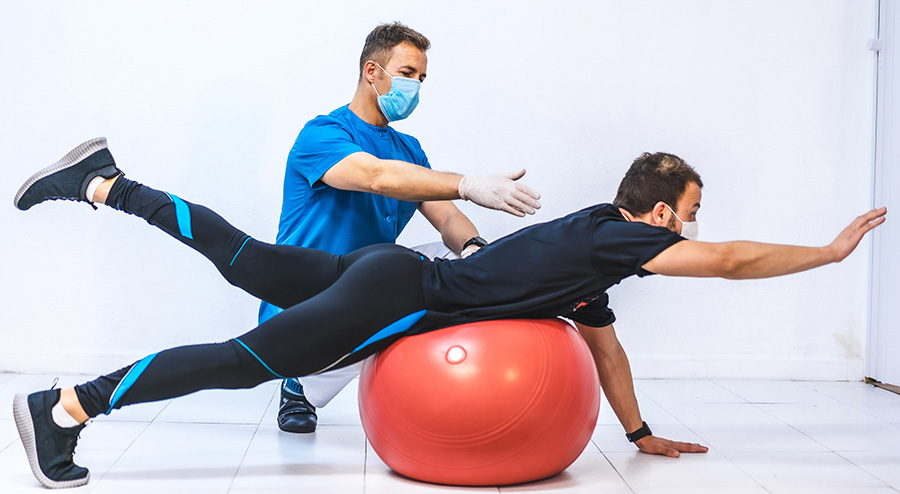 Your Hampton Physical Therapist can be an ally in your recovery from the long-term effects of COVID-19.
Physical therapists are specialists and experts of movement as it relates to quality of life.  Your Hampton Physical Therapist can be an ally in your recovery from the long-term effects of COVID-19.  Our PTs specialize in individualized programming including hands on treatments and guidance of activity to optimize patient's return to their prior level of functioning.  Pain, stiffness, weakness and fatigue are realms in which PTs address every single day.  Although there are many unknowns when it comes to COVID-19, once recovered from the illness, your Physical Therapist can help guide you to a full and healthy return to life prior to the virus.
As it relates to the previously noted side effects PTs will utilize advanced hands-on skills to address musculoskeletal pain focusing on joint mobility and the health of the muscles that are involved.  PTs have advanced understanding of breathing treatments and optimizing the mechanics of breathing including the use of the diaphragm to aid in improving complaints of shortness of breath.  The "COVID fatigue" that many people experience persist and result in weakness, endurance and cardiovascular challenges.  Your PT has the ability to create a tailored program to address specific areas of weakness and safely implement exercise prescription.
As we all hope to return to life as we knew it pre-virus as soon as possible, for those of you who have experienced COVID and may be having some long-lasting side effects. Utilize your PT at Rye Physical Therapy to get you back up and "running".
Contact us at Rye Physical Therapy at 603-929-2880 for a Free 30 Minute Discovery Visit.
Citation: Long-Term Effects of COVID-19. Centers for Disease Control and Prevention. https://www.cdc.gov/coronavirus/2019-ncov/long-term-effects.html. Accessed January 8, 2021.