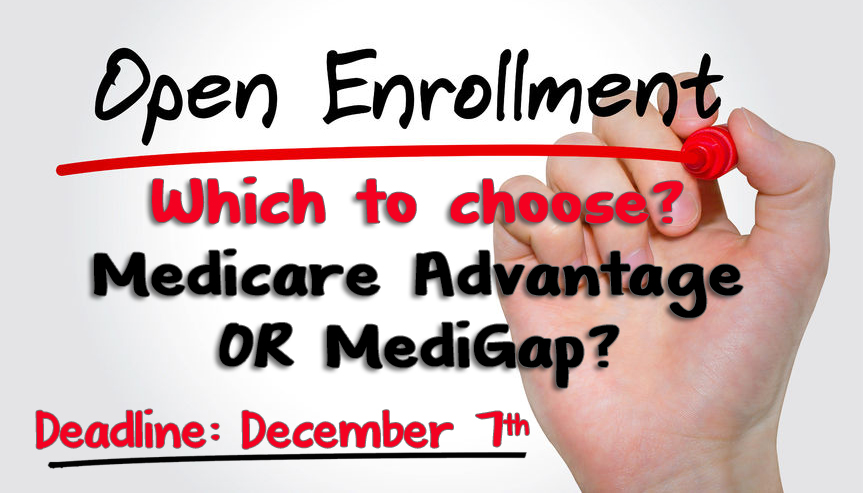 by KATE SERODIO, DPT
It is that time of year again; time to pick your Health insurance plan! The question is, will you opt to stick with your Medicare and Medigap (supplemental Medicare plan that fills in the 'gaps') or change to a Medicare Advantage Plan.
The first thing you will want to ask yourself is:
– Do you want to be limited in which providers you can go to?
– Do you travel? Do you reside in another state for any length of time?
– Do you want to have to get a referral to see a provider?
– Do you want to pay a copay each visit or deal with high deductibles?
If you answered No to any of these questions, then a Medicare Advantage plan is most likely not a good fit for you! Recently, we have seen a big increase in the number of Medicare Advantage plans and I wanted to share a story that represents the Physical Therapy experience of many of our Medicare Advantage patients…
Last December, Jenny referred herself to Physical Therapy (PT) for her hip pain that was not getting better after a couple weeks of rest. She had already met her MC insurance deductible of $185 and had a supplemental insurance, which resulted in no cost for her to have PT. She had previously been to PT and was aware that she could come in without a doctor's referral. She enjoyed the direct access as this saved her a trip from having to see her primary. We treated her for a couple weeks prior to the end of the year. Jenny returned after Jan 1st for continuation of her PT. She presented her new Medicare advantage card thinking her benefit would be similar to her traditional Medicare plan. Unfortunately, Jenny's new Medicare Advantage plan now required her to get a referral for therapy. She was frustrated with this change, as she had enjoyed the ability to book directly to PT and other specialists. Her frustration grew larger when she was told she now had a $40 copay for EACH visit! She quickly commented, this Medicare Advantage plan seems more like a disadvantage plan!
As the year of 2021 has continued, we have seen patients like Jenny again and again, making the same comment, "My Advantage Plan seems like a disadvantage from the traditional plan and supplemental plan I previously had". As a physical therapist, I have been treating patients with Medicare for many years. For years, our patients came in and their plans were very straight forward and easily managed. Until recently, we had nearly a 100% of our patients with traditional MC plans along with supplemental plans. Suddenly, as of 2021 we had approximately 10% of patients change their plans to a Medicare Advantage Plan. We had several patients try to schedule visits directly with PT, however we had to refer them to see their PCP first. NH is a direct access state and you do not need a referral to go to PT, UNLESS your insurance requires it. MC traditional plans do not require this, however most Medicare Advantage plans do. We have also had several patients choosing to not have their PT due to the reoccurring copay costs, which can add up quickly. Unfortunately, this has resulted in many of our patients not getting the care they would have previously received with their traditional plan + supplemental.
Medicare Advantage plans are very similar to the plans that many people previously had when they were working. Medicare Advantage plans are offered by private insurance companies contracted with Medicare and provide at least the same level of coverage that Medicare Part A and Part B provide. Medicare Advantage enrollment is highly concentrated among a small number of firms.
44% United Healthcare and Humana

15% BCBS affiliates (including Anthem BCBS plans)

23% (CVS Health, Kaiser Permanente, Centene, and Cigna)
The Benefits of Medicare Advantage Plan:
– Medicare Advantage plans include everything that the original MC offers, with the exception of hospice care, and can offer additional benefits such as dental benefits, vision, and wellness programs. Some may cover prescription. Many enjoy a bundled plan.
– Medicare Advantage plans have lower premiums (However, Medicare Advantage plans often cover fewer expenses than Medigap — often resulting in more out-of-pocket expenses such as deductible, coinsurance and copays with office visits, Therapy services, lab work, surgery, and many others.
– Medicare Advantage plans have a maximum out-of-pocket limit or MOOP. In 2022, the mandatory MOOP for Medicare Advantage is $8,700, although you may find plans choose to set theirs much lower.
Benefits of Medicare Supplemental Plan 'MEDIGAP':
– Medigap covers you for any hospital or doctor in the US that accepts Medicare (the majority accept Medicare). 
– No need for prior authorization or a referral from a primary care doctor. Coverage includes the entire U.S., which may be important for those who travel frequently or spend part of the year in a different locale. This option is ideal for those who have particular physicians and hospitals they want to use.
– More security long term. When you first sign up for a Medicare Part A and Part B Medigap, insurance companies are obligated to accept you regardless of your current medical condition. However, if you have opted for a Medicare Advantage plan and then decide to return as your health declines you may not be able to find coverage or you may be charged significantly more due to your medical condition
The main downside of Medigap is that the premiums may be higher than those of Medicare Advantage. If you don't mind the Medicare Advantage limitations of freedom and if you're healthy and can predict that you'll remain that way, then a MC advantage plan may be perfect for you. My primary concern as a provider is when I see people not getting the care they need because they're worried about the added cost each time they require treatment. Therefore, when it comes to your health, my suggestion would be to have the plan that will add one less stress to your life when you really need it!
To speak with someone in more depth about these options, visit Medicare.gov
Don't forget, the deadline to choose your plan is December 7th so don't delay!
Stay healthy and safe!
Kate
RESOURCES:
https://www.thestreet.com/personal-finance/insurance/health-insurance/medigap-vs-medicare-advantage
https://www.pmgmd.com/health-matters/medicare-facts/facts-about-medicare-advantage-plans/
https://www.investopedia.com/articles/personal-finance/010816/pitfalls-medicare-advantage-plans.asp
https://www.investopedia.com/articles/personal-finance/071014/medigap-vs-medicare-advantage-which-better.asp